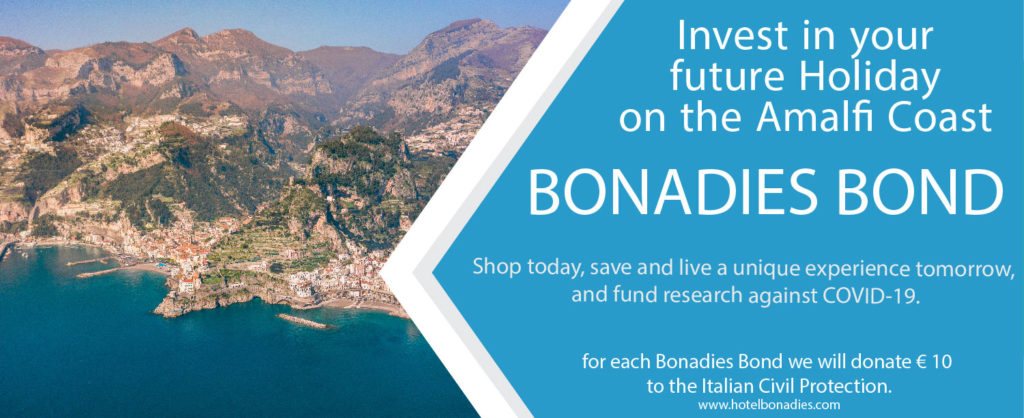 Shop today, save and live a unique experience tomorrow, and fund research against COVID-19.
---
In this period where we are all at home, we thought of making a game, taking a cue from an idea of ​​a dear friend. We wanted to bring it here on the Amalfi coast.
You can buy the Bonadies 𝗕𝗼𝗻𝗱 and live a unique experience on the Amalfi Coast when everything returns to normal, and in addition you will also finance the research against COVID-19: for each Bonadies Bond we will donate € 10 to the Italian Civil Protection.
HOW DOES IT WORK?
👉 It is very easy. Buy your "bond" in advance, which will have an interest rate that will allow you to spend more than the usual rate. This offer will not have any restrictions and you can spend it on your stay on the Amalfi Coast at the Hotel Bonadies in Ravello.
THE VALUES OF THE BONADIES BOND ARE:
Bonadies Bond 150€
Bonadies Bond 200€
Bonadies Bond 300€
The variable is the time, buy in advance and the value will be higher!
---
FOR EXAMPLE, IF YOU PURCHASE ON MAY 31st 2021
A Bonadies Bond of 200 €, will be 275 €
And so on..
(pay 150 € ==> get 200 €)
(you pay € 200 ==> you get € 275)
(pay 300 € ==> get 400 €)
---
IF YOU PURCHASE FROM 01/06/2020 TO 31/08/2020
Bonadies Bond = 200, the value will be 260 €
(you pay € 150 ==> you get € 190)
(you pay € 200 ==> you get € 260)
(you pay 300 € ==> you get 380 €)
---
BUY NOW YOUR BONADIES BOND
Choose your
---
EARN an additional 20% if you decide to spend your bond in the period from 1st November to 31st March (excluding Christmas and New Year).
For Example, with a bond of € 200 the value will be € 275 + 20% = € 330!!
---
You can spend the value of your bond for the stay at our hotel, you will decide the date (subject to availability of the structure and based on the reopening time) – you can spend it on any type of room and service requested.
---
The value of your bond can be used until exhaustion, by 31.12.2021.
---
For any information contact us.
We thank the friends of "Farina" Pizzeria and Fulvio Fortezza of "Experyentya Marketing Lab" for their collaboration in this project!